How To Find Individual House Cleaners?
Finding a trustworthy and reliable individual house cleaner can be a challenging task, but it is essential to keep your home clean and organized. Hiring a professional house cleaner can save you time, reduce stress, and keep your home in good condition. Here are some tips on how to find individual house cleaners.
You are already here! We have a list of experienced, background checked, and nice cleaners ready to go. Book now! We'll help in finding you a housekeeper.
Want more cleaning tips, click here for our list.
5 Ways to Answer Where to Find a Maid or House Cleaner?
Ask for referrals. Word-of-mouth recommendations are always an excellent way to find a house cleaner. Ask your friends, family, and neighbors if they know of any individual house cleaners who they have hired in the past and who have done a good job. Personal recommendations are particularly helpful because you can trust the source and get honest feedback about their experience.
Check online directories. 

Online directories such as Care.com, Handy.com, and Thumbtack.com can help you find individual house cleaners in your area. These directories typically include reviews and ratings of individual cleaners from previous clients, allowing you to see how they performed in the past.

Check online classifieds. Online classifieds like Kijiji, Craigslist and Facebook Marketplace can also be a good source of finding individual house cleaners. However, exercise caution when using these platforms and be sure to verify the legitimacy of the individual and their services before hiring them.
Conduct interviews. Once you have identified a few potential individual house cleaners, it is important to interview them before making a final decision. The interview should cover questions related to their experience, cleaning services they offer, their availability, and their rates. During the interview, you can also assess their professionalism and determine if they are a good fit for your needs.
 Check references. It is important to ask for references from previous clients before hiring an individual house cleaner. A good cleaner should have no issues providing references from previous clients who can vouch for their reliability, professionalism, and quality of work.
Conduct a background check. Before hiring an individual house cleaner, it is important to conduct a background check to ensure they have no criminal record or other red flags. This is particularly important if you plan on allowing the cleaner access to your home while you are away.
Confirm insurance, workers compensation and bonding. A professional and reliable individual house cleaner should have liability insurance and bonding to protect you and your property in the event of accidents or damages while they are on the job. Nothing worse then having to pay a cleaners salary because she slipped on a toy.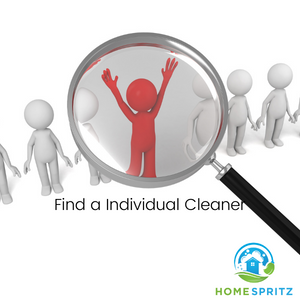 Consider a cleaning marketplace like Home Spritz. Home Spritz is a cleaning marketplace that allows you to find independent individual house cleaner in your area, read reviews from other customers, and book a cleaner directly through the platform. This can be a convenient option for those who want to find a cleaner quickly and easily. Let us help you find a cleaner or help you find a maid or a cleaning lady.
When looking for a house cleaner, it is important to keep in mind that you are inviting someone into your home, and you want to make sure that you are comfortable with the person and that they are trustworthy. Following these suggestions will help you find where to find a house cleaner near me who is reliable and trustworthy, so you can enjoy a clean and well-maintained home without any stress.