House Cleaning in Edmonton: Tackling the Great White North
Ah, Edmonton – the heart of the Canadian Prairies. This bustling metropolis is known for its stunning natural beauty, vibrant culture, and friendly locals. But, as with any city, house cleaning in Edmonton comes with its unique set of challenges. From dealing with hard water to cleaning cold windows, there are a few things you need to know before diving into cleaning in the Great White North.
You are already here! We have a list of experienced, background checked, and nice cleaners ready to go. Book now! We'll help in finding you a housekeeper.
Want more cleaning tips, click here for our list.
Edmonton is notorious for its hard water. If you're not familiar with the term, hard water contains a high concentration of minerals like calcium and magnesium. This can cause a buildup of scale in your pipes, faucets, and shower heads. Not only is this unsightly, but it can also impact the efficiency of your appliances and reduce their lifespan.
So, what's a house cleaner to do? The key is to invest in the right cleaning products. Look for products specifically designed to tackle hard water stains, and use them regularly to keep your fixtures looking sparkling clean. You may also want to consider installing a water softener to help reduce the buildup of minerals in your home.
For us that is mostly cleaning vinegar at full strength. Watch your nose! It is much stronger than your normal white vinegar, but a little soaking takes off hardwater fairly quickly from most areas and is quite natural.  Wrap faucets in vinegar soaked clothes, and avoid using on natural rock and hardwood floors to prevent dulling.
For Home Owners, if you can afford it, get a water softener. Good for your skin and appliances.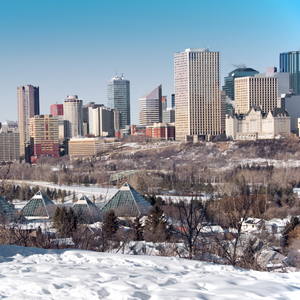 Cold Windows, Warm Hearts
There's nothing quite like the beauty of a snowy winter day in Edmonton. But with that beauty comes a few challenges when it comes to cleaning. Perhaps the biggest challenge is cleaning cold windows. Not only can the cold make it difficult to achieve a streak-free finish, but you also need to be careful not to damage your windows in the process.
The key is to use the right tools and techniques. Start by using a squeegee to remove any excess water, then follow up with a microfiber cloth to buff away any remaining streaks. If the temperature is particularly cold, you may need to warm up the glass first to prevent cracking or damage. Simply use a hairdryer or warm towel to gently heat the glass before you start cleaning. Sometimes we just can't do it well enough to make it worthwhile and need some warmer weather to come through to take care of them well.

Driving in the Great White North
As any Edmontonian will tell you, winter driving in this city can be a challenge. From icy roads to blinding snowstorms, you need to be prepared for anything. This is especially true if you're a professional cleaner who needs to get from one job to another safely.
The key is to take things slow and steady. Make sure your vehicle is equipped with winter tires, and always give yourself plenty of extra time to get where you're going. Keep an emergency kit in your car, including blankets, a flashlight, and a portable phone charger. And, of course, always obey traffic laws and drive defensively.
Often we need to cancel in a snow storm so our cars don't get stuck. Be patient with us!
Keeping Your Pipes from Freezing
One final challenge that house cleaners in Edmonton need to be aware of is the risk of frozen pipes. This can be a serious issue, as frozen pipes can burst and cause significant damage to your home. As a result, cleaners need to be cautious about keeping windows and doors open in winter. Even when they want to provide some natural fresh air for the client.
The key is to maintain a comfortable temperature in your home, even when you're cleaning. If you need to open windows or doors to let in fresh air, do so for short periods and keep an eye on the temperature. You may also want to consider investing in a smart thermostat that can help regulate the temperature of your home automatically.
House cleaning in Edmonton can be challenging, but it's also incredibly rewarding. By taking the time to understand the unique challenges of this great city, you can ensure that your home is always sparkling clean – no matter what the weather brings. So grab your squeegee, put on your warmest coat, and let's tackle the Great White North together!
Consider a cleaning marketplace like Home Spritz. Home Spritz is a cleaning marketplace that allows you to find independent individual house cleaner in your area, read reviews from other customers, and book a cleaner directly through the platform. This can be a convenient option for those who want to find a cleaner quickly and easily. Let us help you find a cleaner or help you find a maid or a cleaning lady.
When looking for a house cleaner, it is important to keep in mind that you are inviting someone into your home, and you want to make sure that you are comfortable with the person and that they are trustworthy. Following these suggestions will help you find where to find a house cleaner near me who is reliable and trustworthy, so you can enjoy a clean and well-maintained home without any stress.